Ordro AZ50 4K 64X Digital Zoom Infrared Night Vision Camcorder Video Camera Kit
Advanced features for great moments

The performance packed into ORDRO AZ50 4k camcorder is peerless. 64X digital zoom help you get clear images even in long distance shooting.
You can easily take pictures even in a dark environment.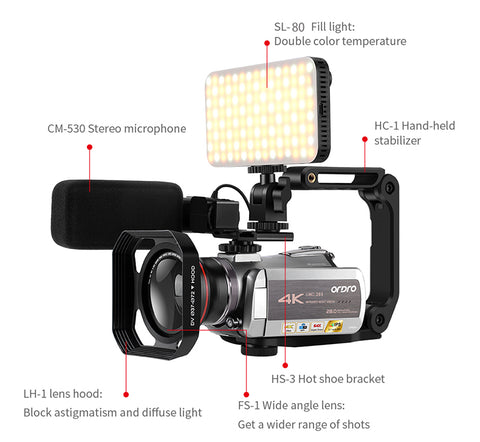 4K image quality
Shoot 4K footage that contains about four times more detail than Full HD (3840 x 2160 pixels vs. 1920 x 1080) footage, and capture more of the incredible qualities that bring images to vibrant life.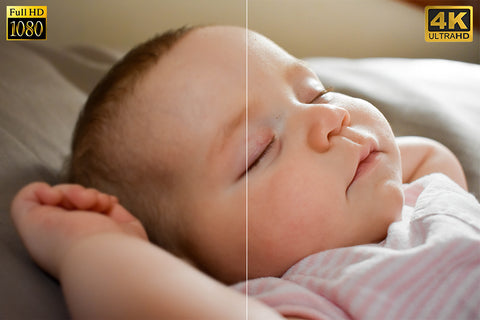 Playback on 4K TV or 4K computer
The image you see on the camera screen is blurry, because the resolution of the camera screen is relatively low, please put the captured photos or videos on a 4k computer or 4K TV by HDMI 2.0 cable for playback.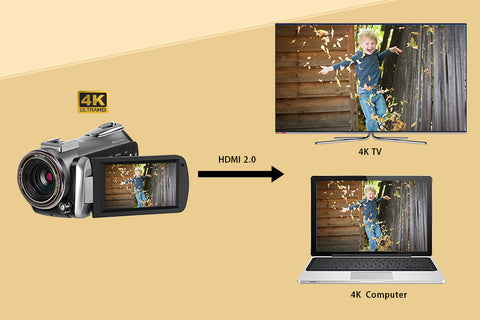 HEVC(H.265), high efficiency video coding
4K imagery has become the quality standard for many broadcast applications. A key requirement is that the transmission links be of sufficient bandwidth. Links using H.264 can be overwhelmed by the much higher bandwidth requirements of 4K video. HEVC is often the better solution, this new video codec will compress video files to half the size.

When you play 4K video recorded with AZ50 camera, please make sure that the player you use and your device support H.265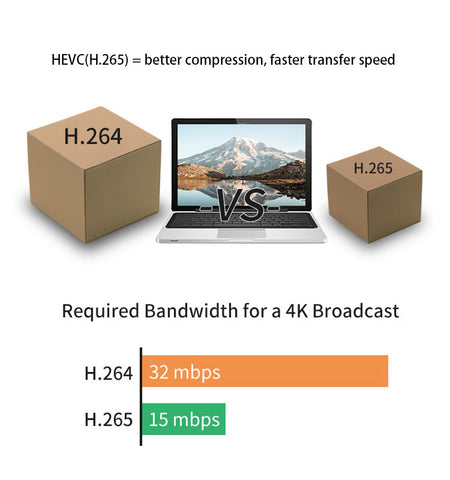 with Sony 1/2.3 inch CMOS sensor
Most of camcorder has 1/3 inch sensor, but AZ50 has 1/2.3 inch sensor which will help you shoot good quality picture even in low light.
More flexible image capture, wider dynamic range, high resolution.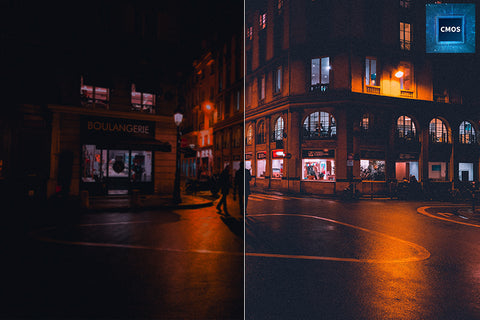 Superb Infrared night vision
This feature use infrared light to take pictures even in complete darkness. By using NIGHT SHOOTING, parents can easily capture children's cute sleeping face.

The image in infrared night vision mode is black and white.

Note: Effective distance <16 ft.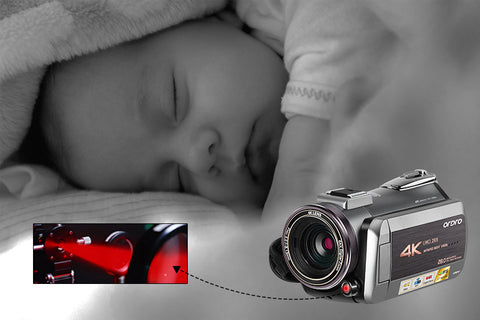 Stereo Recording- Cardioid Directivity
Built-in two diaphragms can record from the front and both sides, locate sound sources in different directions, simulate spatial orientation and layer, and realize stereo pickup.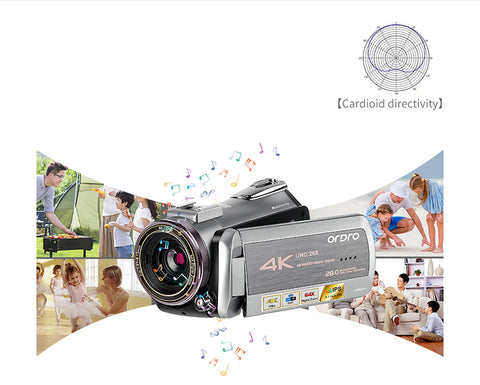 ORDRO M530 Stereo Microphone
NOTE: Only when you purchase Bundle A or Bundle B or Bundle C or Top Set, you will get microphone.
With the exclusive hot shoe design, it can support external microphone. The microphone can accurately pick up the sound, eliminate the noise and NCR noise reduction during recording, bringing you purer sound quality.

Tips: Please use the microphone adapter to connect an external microphone to the camcorder. And make sure it is fully inserted, otherwise the camcorder cannot pick up the sound.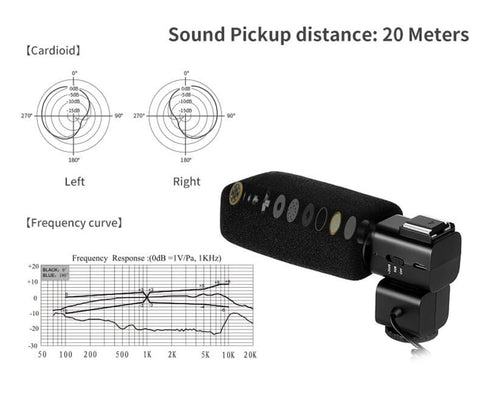 Wide Angle and Macro Lens (FS-1)
FS-1 is a professional 2-in-1 0.39x (with macro lens) wide angle lens for a wider range of shooting. (Lens diameter 37mm). Use the macro lens for close up shots such as plants and animals, etc

Tips: The wide-angle lens is mainly used for long-range shooting, the shooting distance is greater than 1.5m.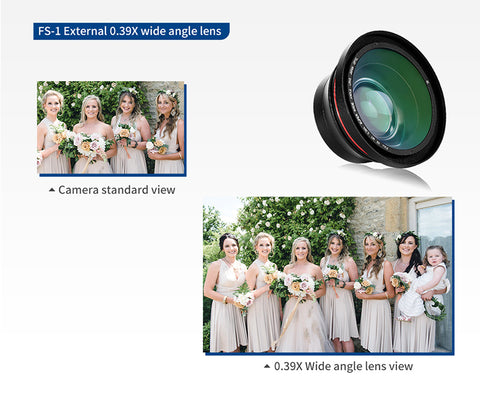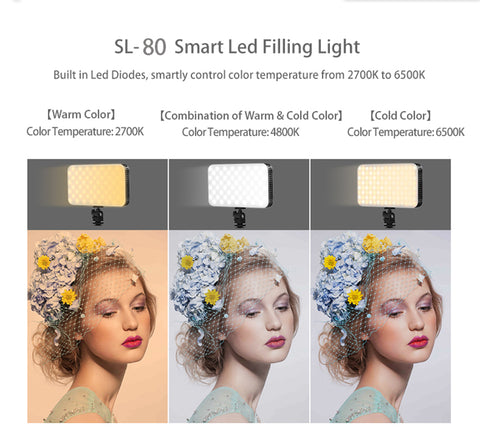 Camera Handheld Holder (HC-1)
The foldable handheld holder is used to increase the stability when shooting. It adopts U-shaped design and groove grip adds comfort and eases the long shooting fatigue. Bottom with a standard 1/4'' slidable screw which can be attached standard tripod. Please use the hexagon wrench to tighten the screws.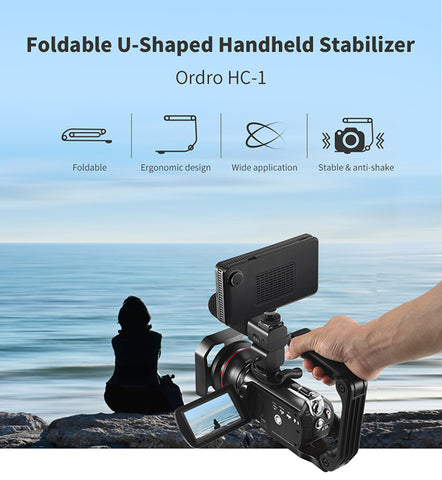 Specifications and features
Video resolution: 4k Ultra HD (3840 × 2160) (30fps) recording
Sensor: 1/2.3 inch SONY CMOS Sensor
Video format:MP4 (H.264)
Effective pixels: 28 MP(max)
Digital zoom:64X
Lens:f=8.13mm, F.NO:3.0, Ø: 37mm
Clear image shooting distance: More than or equal to 1.5 meters
Screen: 3.1 inch type IPS touch display, Wide (16:9)
TV output: HDMI
Anti-shake: Only take photos can use anti-shake function
Night vision shooting: Support infrared night vision shooting, in this shooting mode, the picture is black and white
Webcam function: Support
WiFi control: Support
App control: Support
Battery: NP-120 lithium battery
Working time after full charged: approx. 60mins
Language: Ordro AZ50 Supports 13 languages: English (default), Russian, Spanish, Portuguese, French, German, Italian, Turkish, Japanese, Dutch, Polish, Traditional Chinese and Simplified Chinese
Dimension: 128(L) mm × 68(W) mm × 78(H) mm
Packing list

1* AZ50 HD digital camera
1* LED light
1* Wide angle lens and lens hood
1* Stereo microphone
1* Telescope
1* Foldable stabilizer
1* Hot shoe bracket
1* Portable camera bag
1* USB cable
1* HD cable
1* Warranty card
1* Hand strap
1* Remote controller
1* Charger
1* Battery
1* 2 in 1 adapter