Ordro
ORDRO 12X Ultra HD Monocular Telescope Telephoto Lens
12X Magnification: The monocular telephoto lens magnifies your world,  get closer than you've ever been to your subjects. Features a handy focus ring so you can get the sharpest results possible. 
K9 Prism, High Light Transmission: It adopts a K9 prism with a higher refractive index for a clear image. Features bright imaging, transparent color, and no dark edges. Made of aluminum alloy material with FMC multi-coated. It can perform 98.5% luminousness.
New Anti-Distortion Design: The anti-distortion telephoto lens can effectively eliminate the deformation of objects generated during telephoto shooting, and the color reproduction is high.
37mm Thread Size: The telephoto lens has a 37mm thread, which can be mounted on ORDRO HDR-AZ50, HDR-AC3, HDV-D395, HDV-Z20 fixed focus digital camera. 12x zoom telescope+ digital zoom of the camera=longer distance shooting. The telephoto lens also can be mounted into the lens clip for mobile photography or used separately.
The ABS lens clip with a layer of soft rubber protects your phone from scratches and damage, durable and reliable.

I easily watched a bird on the lake taking a bath it is an awesome lens
Can be used in many scenes, such as traveling, watching concerts, watching the game, watching animals, etc.
Specifications:
Model: TX-13
Housing Material: Aluminum alloy
Compatible DV Camera Models: ORDRO HDR-AZ50, HDR-AC3, HDV-D395, HDV-Z20 fixed focus digital camera
Magnification: 12X
Objective Diameter: 32mm
Front Lens Diameter: 42mm
Prism: K9
Prism Type: ROOF
Eyepiece Diameter: 19.5mm
Exit Pupil Diameter: 4mm
Lens Coatings: FMC
Relative Brightness Index: 16
Field of View: 7°
Eye Relief: 15mm
Closest Photograph Distance: 5m
Diopter Adjustment: -4D~+4D
Thread Size: M=37mm
Item Size: 15 * 4.5cm / 5.9 * 1.8inch (L * D)
Item Weight: 157g / 5.5oz
Package Size: 18.1 * 7.5 * 5.3cm / 7.1 * 3 * 2.1inch
Package Weight: 301g / 10.6oz


Package List:
1 * ORDRO TX-13 12X Monocular Telephoto Lens
1 * Lens Clip
2 * Cleaning Cloth
1 * Carrying Pouch
1 * User Manual (English & Chinese)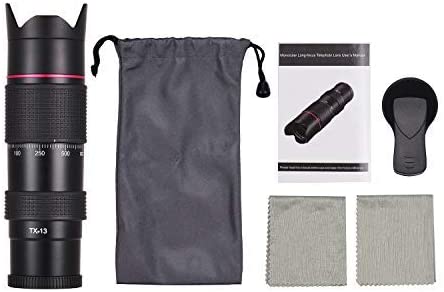 Delivery is free for all orders over $169.

Otherwise, delivery is $9-$20 depending on the items you plan to purchase.

Once your product has shipped, it usually takes 7 to 10 business days in others order, 5 to 9 in Europe. 10 to 14 for the rest of the world. If you have not received your products, feel free to contact us using our contact page.

You can return your product up to 30 days after receiving your order. Please make sure that the products are not used or damaged.

Camera accessories and smart watches do not currently support local delivery.

Due to the impact of the epidemic, there will be a certain degree of delay in logistics. Please be patient.
Tip: The order will be confirmed by email before shipment. Please check the email in time.
Dear customer
We will set up overseas warehouses in some countries, so some goods can be delivered locally.
North America: United States, Canada.
Asia: Japan
Europe: The countries covered by the European Union, as well as the United Kingdom.
Camera accessories and smart watches do not currently support local delivery.