Ordro
ORDRO 0.39X Wide Angle Lens
0.39 times widen the lens angle - take a photo from a bigger perspective.
A detachable macro lens for close-up photography for small objects - closer and bigger.
Professional Japan optical glass ensures better light transmission while reducing unwanted glare and reflection.
High-quality aluminum alloy construction.74mm filter mount.

Lens mount 37mm, comes with a 37mm to 30mm adapter; work with 30mm/37mm camera mount.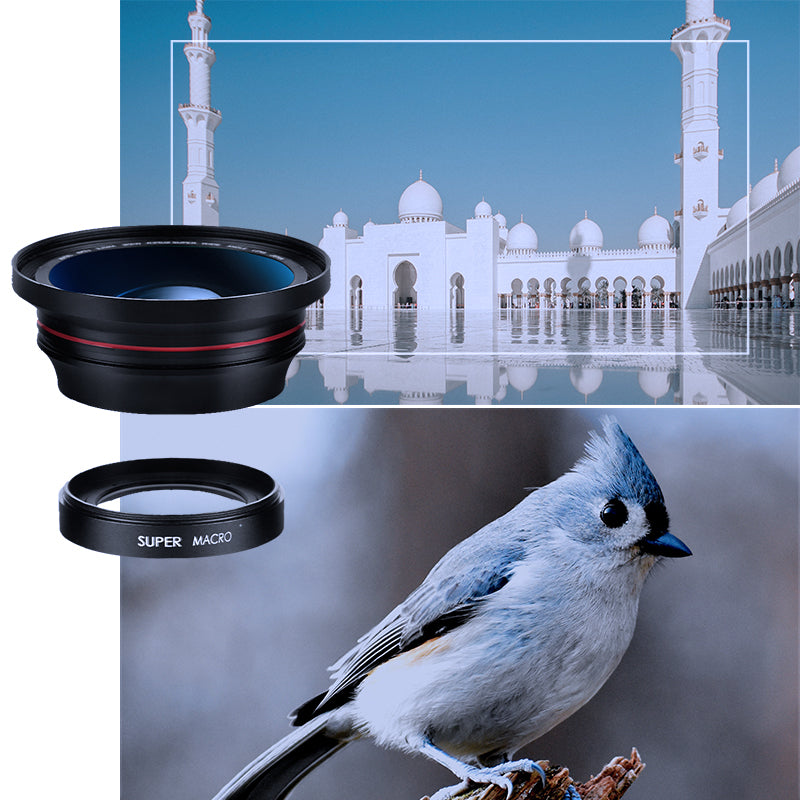 Package includes:
1 * Lens with covers

1 * Wide angle

1 * Adapter

1 * Protection Pouch

1 * Packing box
Brand Name: ORDRO 

Material: Aluminum Alloy & Optical Glass

Lens Multiples: 0.39X

Structure: 2G

Lens Mount: 37mm

Adapter: 37mm to 30mm

ND & CPL Mount: 74mm

M.O.D: 0.1mm

Max. Image Circle: ≥φ6.2mm

EFFL: 4.95~49.5mm

Function: Macro Lens, Wide Angle

Item Size: 7.4 * 7.4 * 4.4cm / 2.9 * 2.9 * 1.7" (with covers)

Item Weight: 135g / 4.8oz (with covers)

Package Size: 8 * 8 * 7.5cm / 3.1 * 3.1 * 3"

Package Weight: 173g / 6.1oz
Delivery is free for all orders over $169.

Otherwise, delivery is $9-$20 depending on the items you plan to purchase.

Once your product has shipped, it usually takes 7 to 10 business days in others order, 5 to 9 in Europe. 10 to 14 for the rest of the world. If you have not received your products, feel free to contact us using our contact page.

You can return your product up to 30 days after receiving your order. Please make sure that the products are not used or damaged.

Camera accessories and smart watches do not currently support local delivery.

Due to the impact of the epidemic, there will be a certain degree of delay in logistics. Please be patient.
Tip: The order will be confirmed by email before shipment. Please check the email in time.
Dear customer
We will set up overseas warehouses in some countries, so some goods can be delivered locally.
North America: United States, Canada.
Asia: Japan
Europe: The countries covered by the European Union, as well as the United Kingdom.
Camera accessories and smart watches do not currently support local delivery.