Ordro
ORDRO HDR-AC3 Ghost Hunting IR Night 4K Camcorder
This is a video camera for observing Paranormal Investigation and This is looking for a high-quality night vision camera for ghost hunting.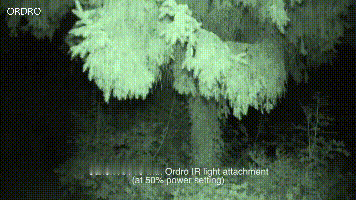 Infrared Night Vision
This video camera is equipped with night vision and can shoot high-definition images and videos in low light. Valuable moments of nights will never be missed.  it works well in absolute darkness in an area.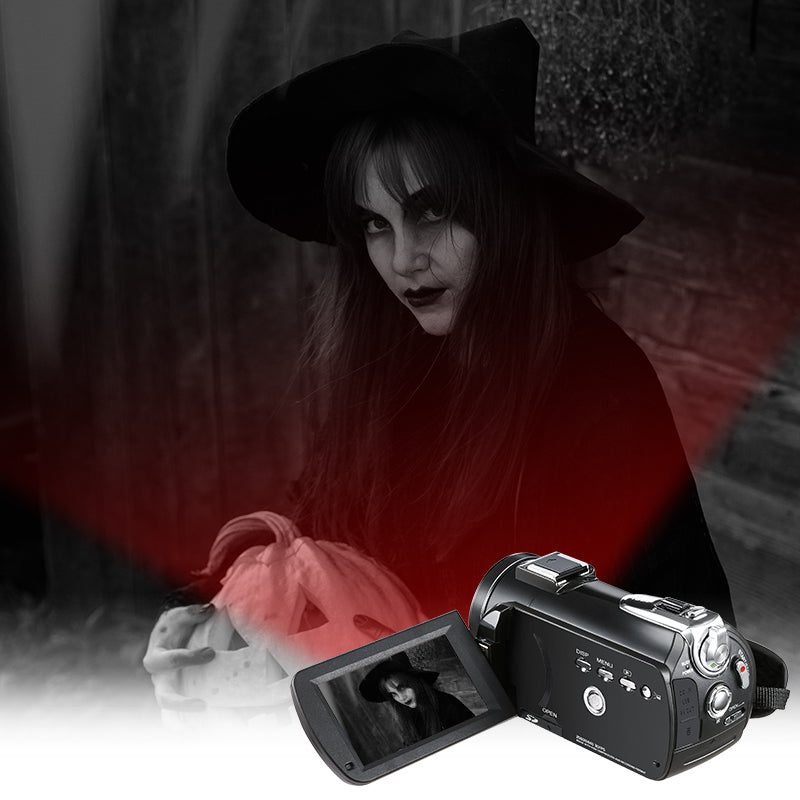 30X Digital Zoom
With the 4k camcorder 30x digital zooms you can ghost hunting from over a long distance and observing Paranormal Investigation. Perfect for recording at night!
Convenient Connectivity
The camcorder can playback on the 4K TV looks awesome,  the night vision works great clear, we can enjoy the whole process of ghost hunting on the 4K TVshow.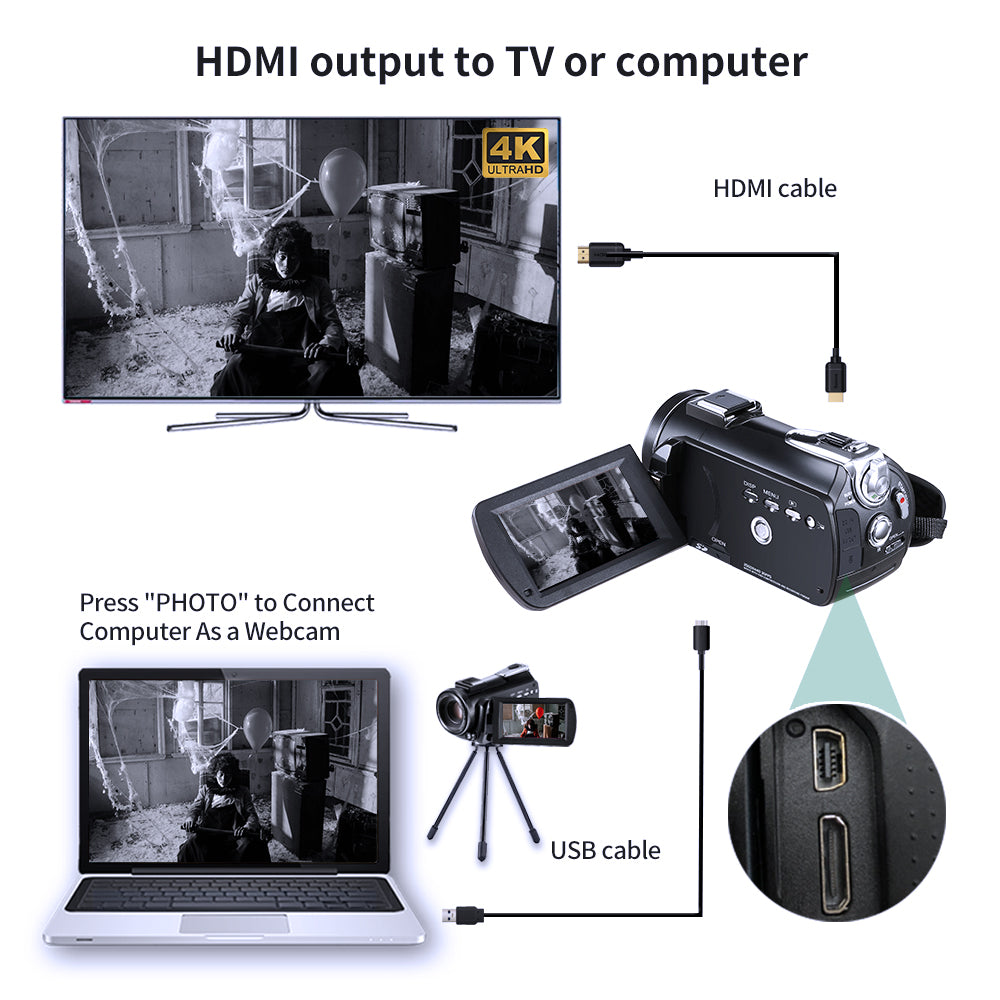 The ORDRO 4k camcorder HDR-AC3 built-in Wi-Fi lets you send files, remote control, or live stream to your smartphone.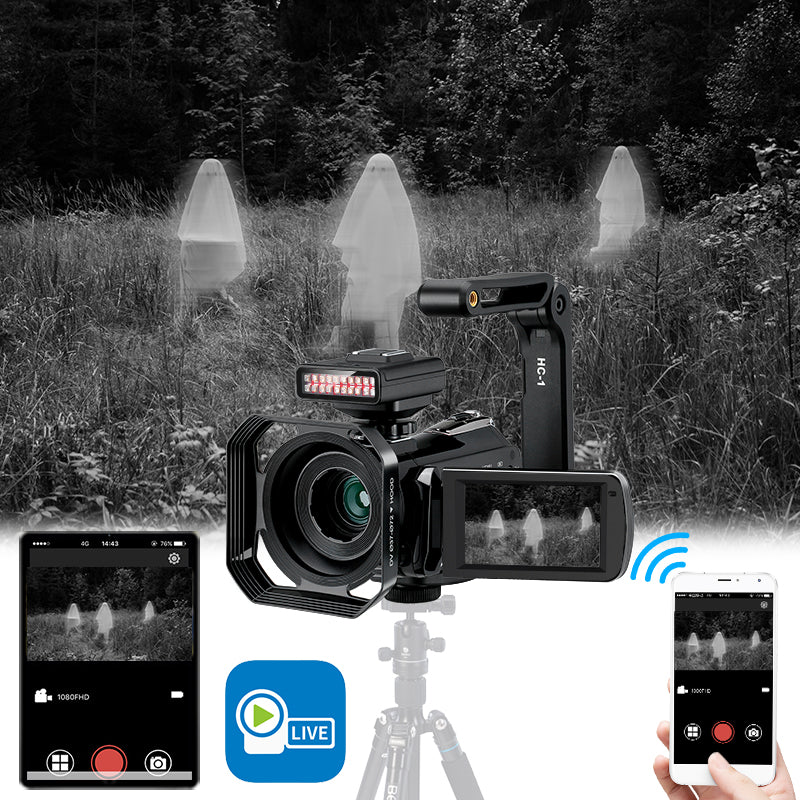 The Camcorder Come With Infrared Night Vision Light
The camera has built-in IR lights, but it also comes with an external IR light, With 20 infrared lights, can be set to be 10 lights bright or full bright.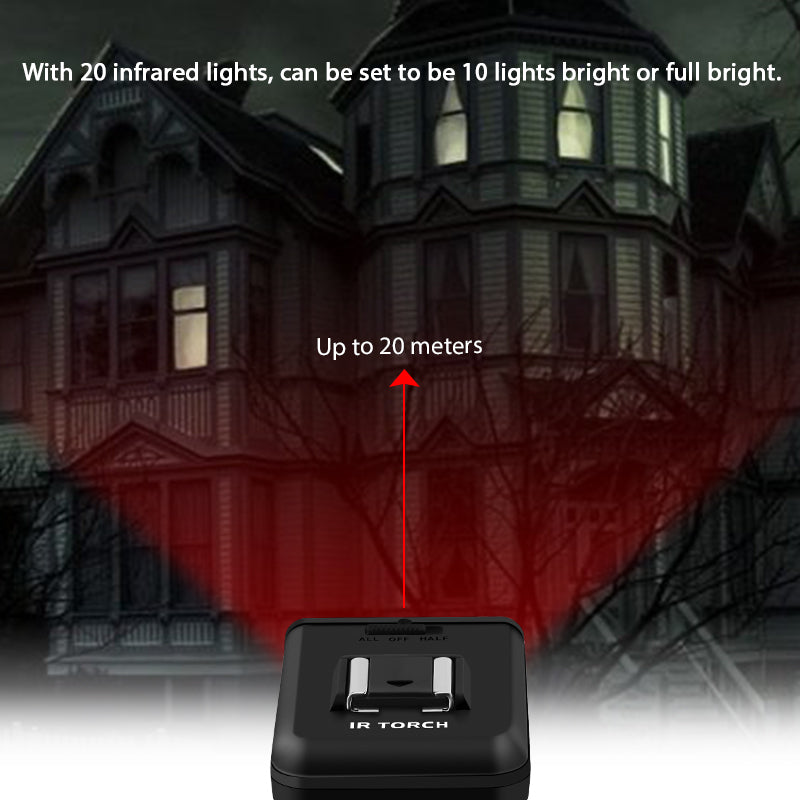 The video camera has a rechargeable IR light, which really lights up a room in complete darkness and great for nighttime shooting.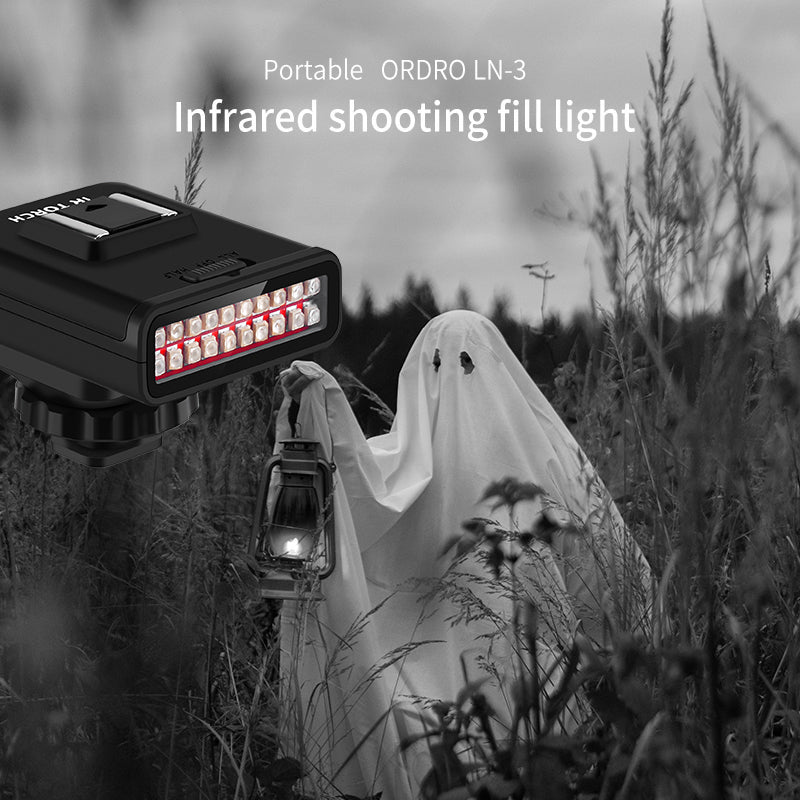 Overall it is an ok video camera for beginners, YouTube startups, etc. And of course night vision for those who need it. the much better night viewing infrared lighting equipment.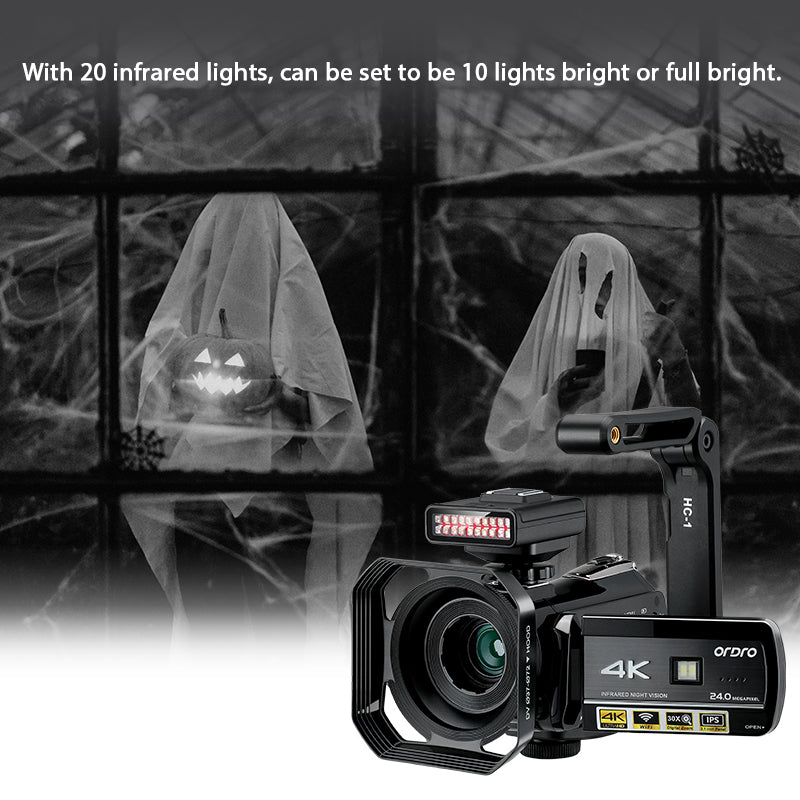 4K Resolution 
(13MP high sensitivity CMOS sensor)
Really a great camera for Ghost hunting and you can't beat the price. With 4K resolution (UHD 2880*2160p 24fps), shoot exquisite and clear images with rich color and high-contrast performance.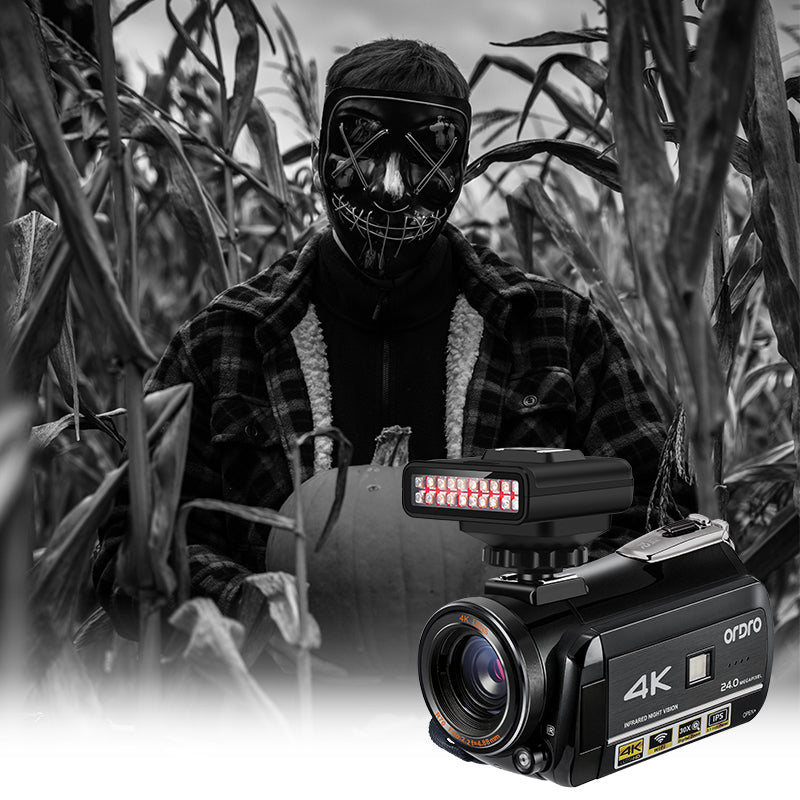 Specifications:
Sensor: Adopt for 13MP CMOS Sensor, max.24MP(the interpolation)
Memory: Support SD Card, max. to 128G (Not included)
Lens: f=4.88mm, F NO: 2.2
Focus Distance: 1.5m to infinity
Screen: 3.1 Inch IPS-LCD(16:9)
Video Format & Resolution: MP4 AVC/H.264, UHD:  2880*2160p (24fps) "DAR", QHD: 2560 * 1440(30fps), FHD: 1920 * 1080(60fps), HD: 1080 * 720(120fps), VGA: 640 * 480(30fps)
Function: 30X Zoom, WiFi connection, Night Vision, hot shoe, Anti-shaking, Face Detect, multi-snapshots(3 photos)
USB Port: USB2.0
TV Output: Yes, NTSC/ PAL
Operating System: Support for Windows XP/ Vista/ 7/ 8/ 10
Language: English/ French/ Spanish/ Portuguese/ German/ Italian/ Simplified & Traditional Chinese/ Russian/ Japanese/ Turkish/ Dutch/ Polish
Remote Control Battery: 1 * 3V CR2025 Battery
Camera Size: 12.8 * 6.8 * 7cm / 5 * 2.7 * 2.8in
Camera Weight: 412g / 14.5oz (With battery)
Package Size: 21 * 15 * 13cm / 8.3 * 5.9 * 5.1in
Package Weight: 1530g/ 3.4lbs

 ORDRO offers a ONE YEAR warranty and excellent customer service.
A special discount for one-time bulk order.
Delivery is free for all orders over $169.

Otherwise, delivery is $9-$20 depending on the items you plan to purchase.

Once your product has shipped, it usually takes 7 to 10 business days in others order, 5 to 9 in Europe. 10 to 14 for the rest of the world. If you have not received your products, feel free to contact us using our contact page.

You can return your product up to 30 days after receiving your order. Please make sure that the products are not used or damaged.

Camera accessories and smart watches do not currently support local delivery.

Due to the impact of the epidemic, there will be a certain degree of delay in logistics. Please be patient.
Tip: The order will be confirmed by email before shipment. Please check the email in time.
Dear customer
We will set up overseas warehouses in some countries, so some goods can be delivered locally.
North America: United States, Canada.
Asia: Japan
Europe: The countries covered by the European Union, as well as the United Kingdom.
Camera accessories and smart watches do not currently support local delivery.