Ordro
ORDRO HDV-Z63 16X Digital Zoom 2K HDR-Camcorder Beginner Video Camera


With  8MP CMOS Sensor: The ORDRO HDV-Z63 video camera captures 2k high definition 2560x1440(30FPS) vivid videos and high quality 30MP still pictures.  An Ideal camcorder for amateurs and beginners to start filming.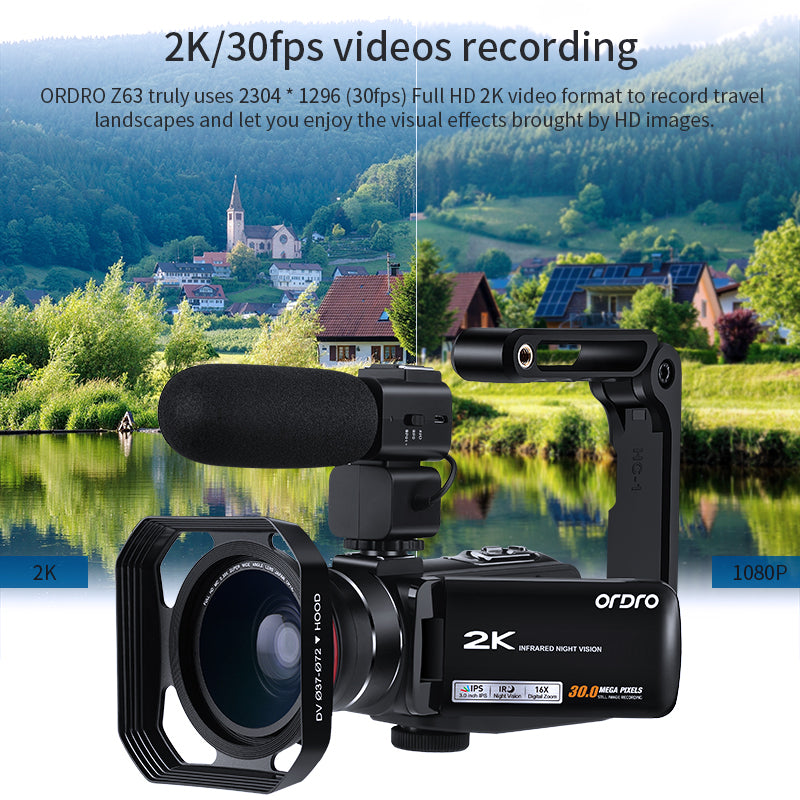 16X digital zoom: The camcorder with 16x digital zoom is effective for enlarging your picture.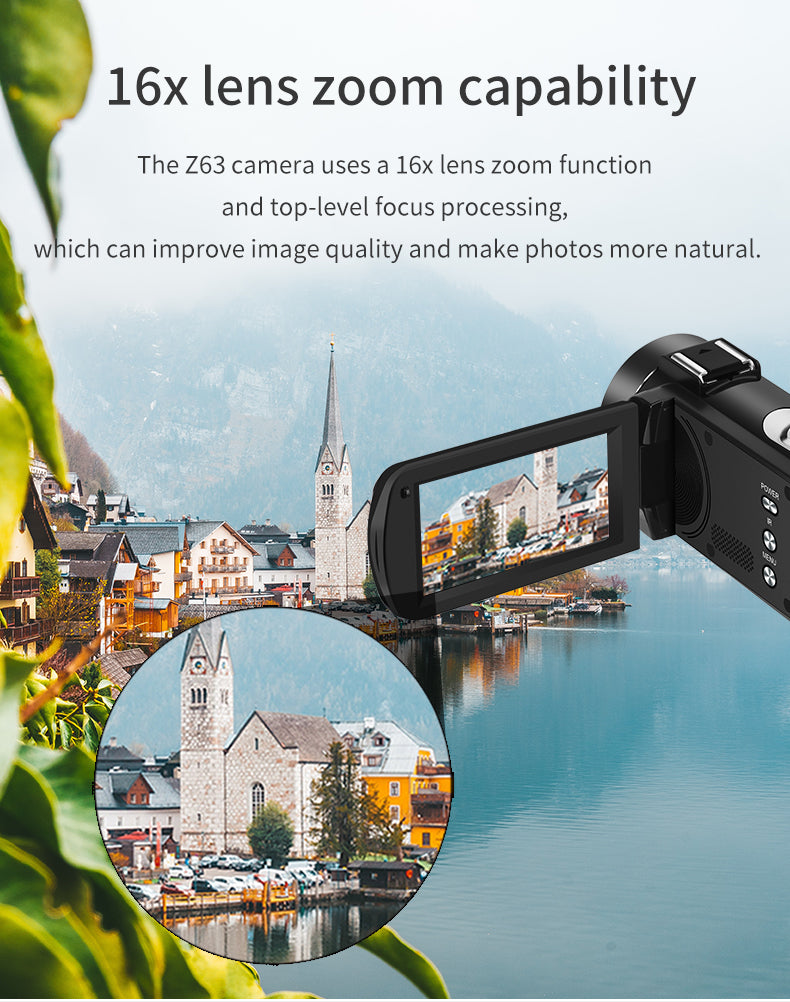 Wifi Function: Download the app "JUST DV" to the smartphone and connect the device. This WiFi feature makes it easy to capture amazing photos of the remote. It`s convenient to share photos and recorded videos taken by our digital video camera on Facebook, Instagram, or YouTube whenever you want.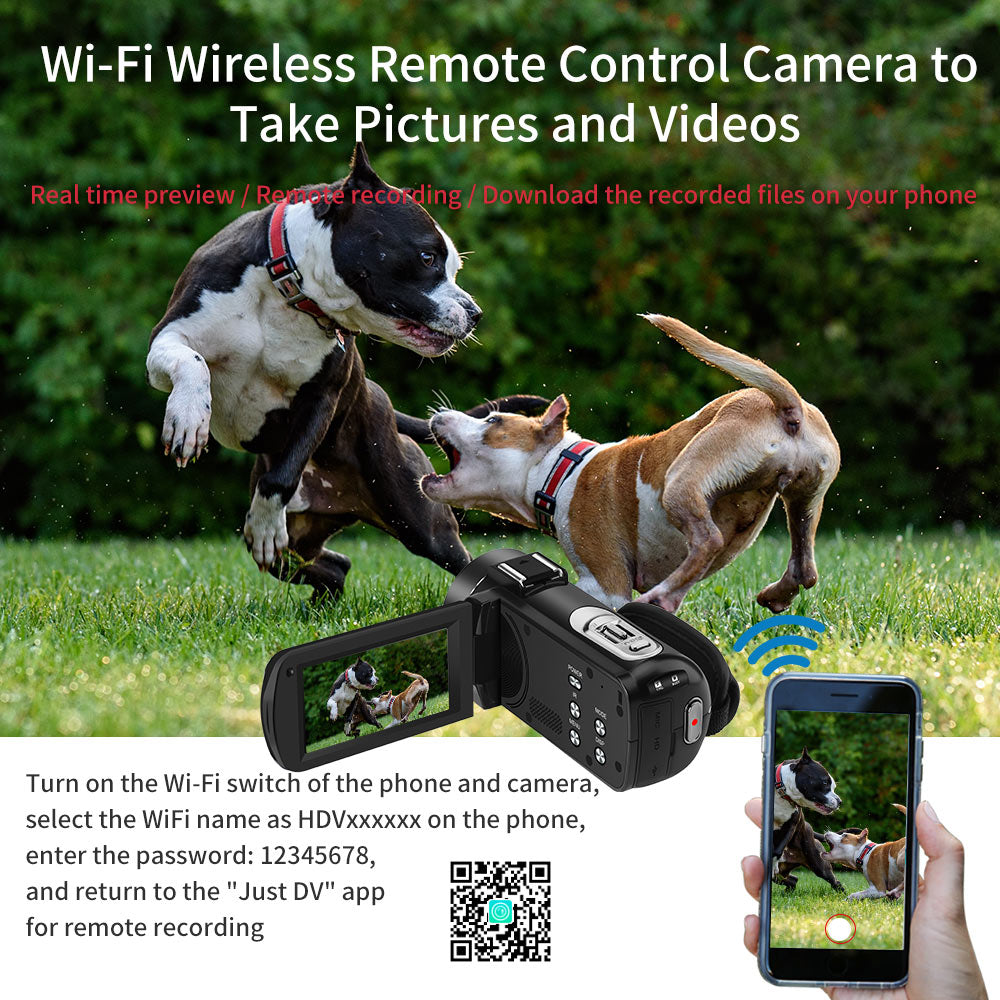 IR Night vision Function: Night Vision Camcorder is equipped with IR light, which is a good helper for you to take some shots of pictures and videos at night.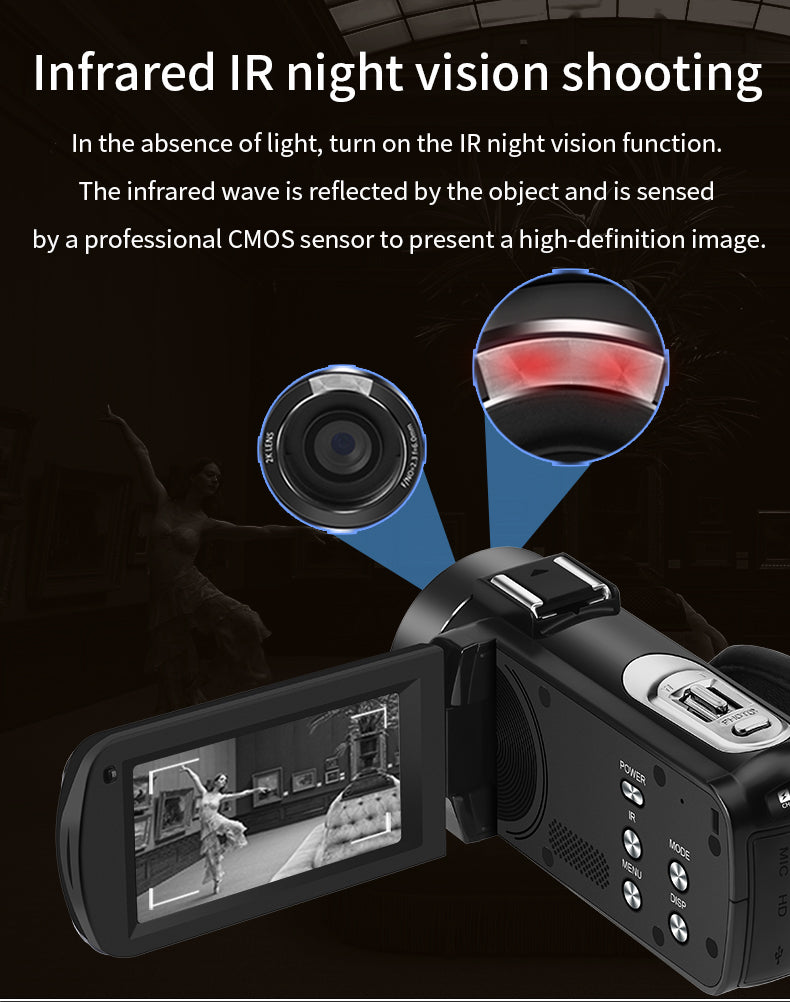 3.0 inches IPS HD touch screen:
This camcorder also has a 3.0 inches IPS HD touch screen with 270-degree rotation.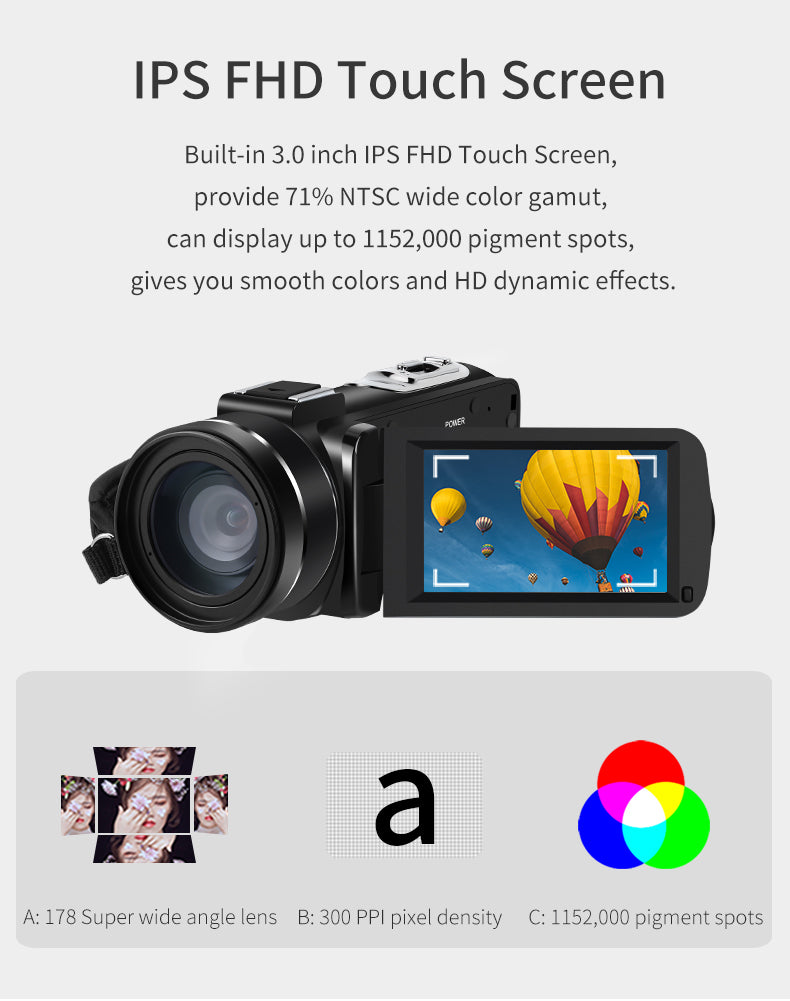 Webcam Function: Ordro z63 camcorder can be used as a webcam by connecting the camera with a computer by USB cable, and it supports HDMI output (use HDMI cable)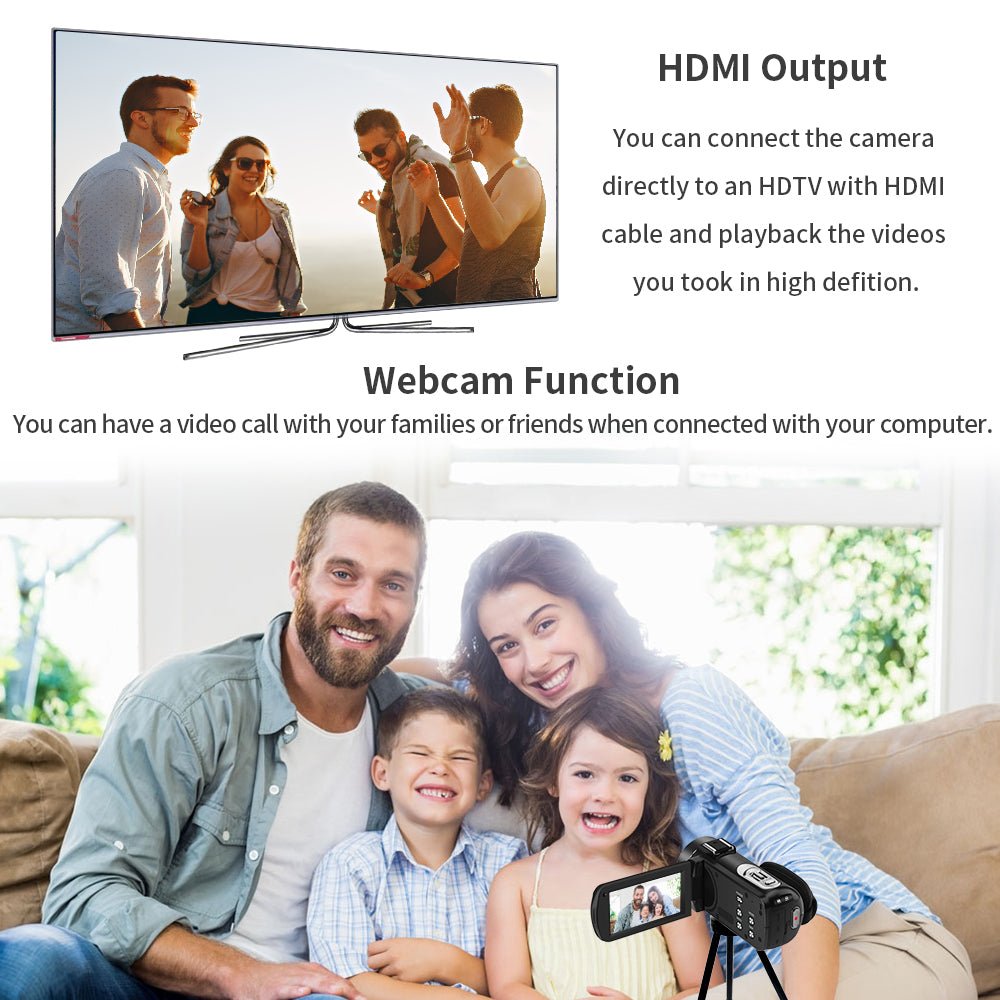 Lots of accessories: Because of the hot shoe, this digital camcorder comes with an external microphone, which reduces sound distortion and increases clarity.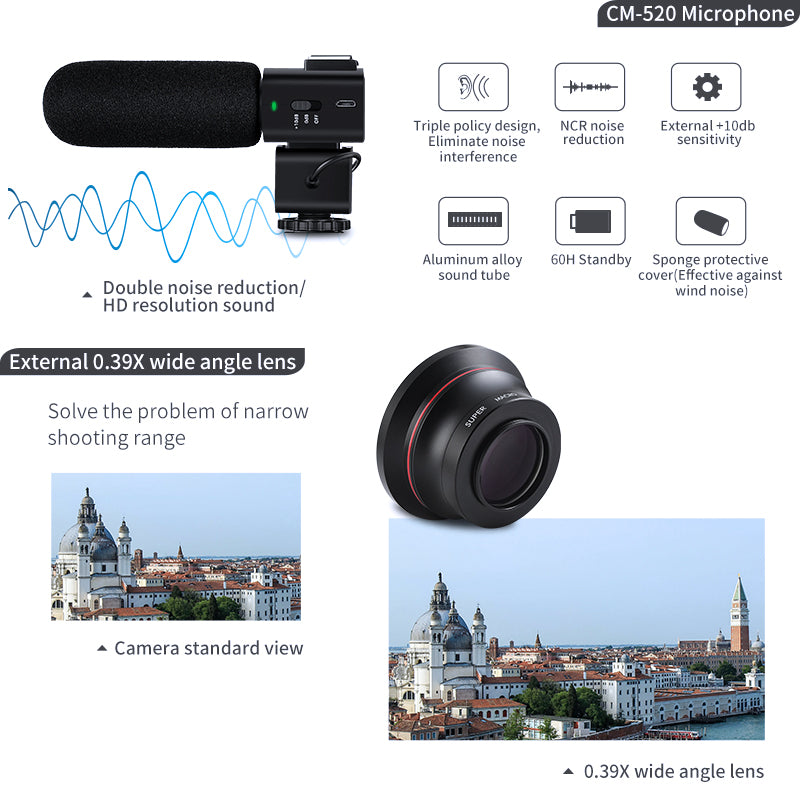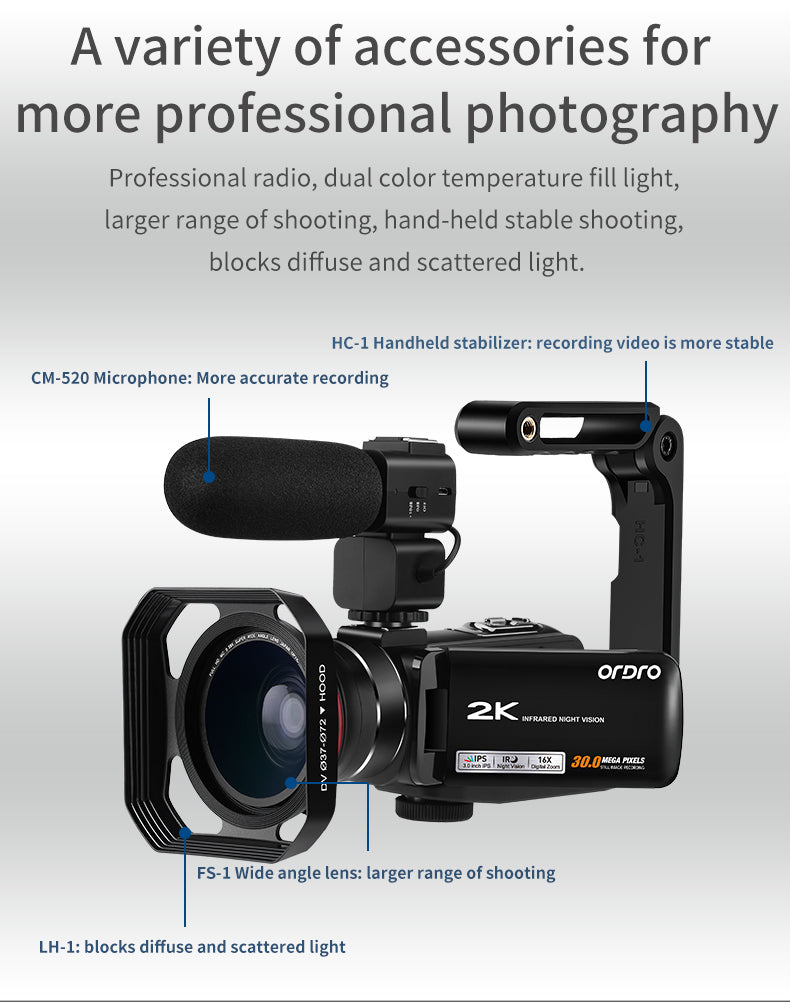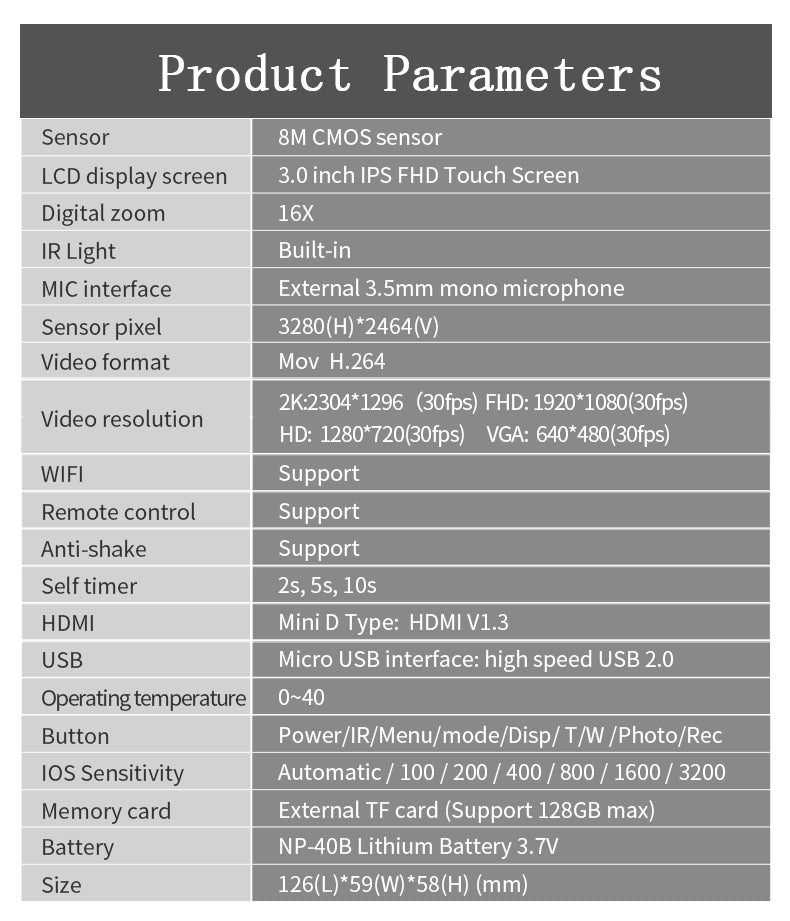 (standard)You will get:
1 x ORDRO Z63 Video camera

1 x HDMI cable,

1 x USB cable,

1 x Microphone charging cable,

1 x NP-40 Lithium batteries,

1 x Battery charger,

1 x Remote control,

1 x Camera bag,

1 x Lens cap,

1 x Wrist strap,

1 x User manual
Warm Tips
1. Please must read the user manual before using this camera.
2. Please must fully charge this camera before the first time use. Use the original Micro USB Cable to charge this camera connect the camera to a 5V 1A/5V 2A genuine charger or a computer to fully charge this camera, it needs about 3 hours for a full charge.
3. Please must format a micro SD card on this camera before you start shooting.
4. Please contact us first if you have any problem when you use this camera, we will do our best to help you.

If you have any questions, please don't worry, we will try our best to solve them for you.

ORDRO offers ONE YEAR Warranty and friendly customer service. Please be feel to contact us if you have any questions.


Delivery is free for all orders over $169.

Otherwise, delivery is $9-$20 depending on the items you plan to purchase.

Once your product has shipped, it usually takes 7 to 10 business days in others order, 5 to 9 in Europe. 10 to 14 for the rest of the world. If you have not received your products, feel free to contact us using our contact page.

You can return your product up to 30 days after receiving your order. Please make sure that the products are not used or damaged.

Camera accessories and smart watches do not currently support local delivery.

Due to the impact of the epidemic, there will be a certain degree of delay in logistics. Please be patient.
Tip: The order will be confirmed by email before shipment. Please check the email in time.
Dear customer
We will set up overseas warehouses in some countries, so some goods can be delivered locally.
North America: United States, Canada.
Asia: Japan
Europe: The countries covered by the European Union, as well as the United Kingdom.
Camera accessories and smart watches do not currently support local delivery.